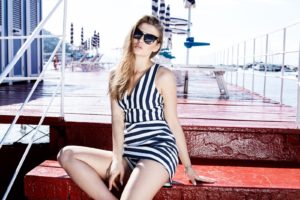 For Imatex basic denim is now long past, the stores are saturated. Consumers are more and more aware of the fabrics used in cheap jeans and they are also comparing them to the identical fabrics used in expensive jeans; the brands need to differentiate themselves, they need style, quality, creativity and above all to give value to their collections. The new Imatex collection, designed for these needs, is ready to impress.
"Over the denim" by Imatex is the perfect combination of fashion styles and the passion for indigo. Due to this union, the Imatex designers have created high-quality fabrics for hand-feeling and choice of fibers. The main part of the summer collection is developed with tencel, viscose and linen fibers. A collection geared to the total look; fabrics for pants, jackets, shirts, and dresses. The natural fibers guarantee quality and respect for the environment, drawings, constructions and colors which give it style and exclusivity, and the touch of indigo makes the unique look.
The new collection will be presented in Amsterdam on the 26-27 October 2016 at the Kingpins and in Paris on the 2-3 November at the Denim by PV. Save the date!